Chenla Children's Healthcare serves children affected by poverty and disease in one of the poorest regions of Cambodia where quality care was not previously available.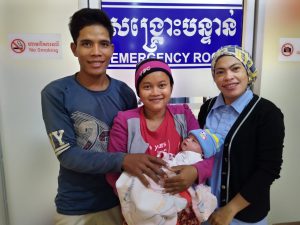 We do this as an integrated part of the government hospital so that:
What we do is sustainable;
We leverage every amount of funding support possible from the government system and from there make the system work well;
We don't recreate the wheel and;
Every donor dollar is used highly efficiently.
What we most importantly add to the equation is passion for the mission.
Our unofficial motto remains "the patient is the boss" and indeed we get many difficult bosses who we strive to serve with life saving compassionate care every month, every week, every day.
Chenla Children's Healthcare is free for the poor and affordable for everyone. No child is ever turned away. In 2019 , while more than half of our 3,148 admitted patients received services for free, Chenla also brought in to the public hospital $177,000 in revenue from user fees and health equity fund payments. 59% was used for salaries throughout the entire hospital. 39% was allocated towards running costs of the public hospital including some infrastructure improvements. 2% went towards administration costs of the public system. What benefits did Chenla Children's Healthcare see from the public system/coffers? Answer – salary support, medication and supplies, all electricity bills paid, a new generator and a new CT scan machine on our ground floor. Needless to say, we believe more strongly than ever that collaboration pays large dividends. No, this revenue stream is not enough to fully run Chenla, but it is a huge help and can be increased over time as Cambodia continues to develop even in its most remote regions.
In addition, we greatly appreciate being a part of the government hospital quality assessment system. While we hold ourselves to the highest standards, having regularly scheduled assessments of our work provides proper oversight and feedback which allows us to continuously improve. Our marks are very high, but no, we do not always get perfect marks on these assessments. Yet, we always quickly correct any deficiencies found and change our processes to ensure that any problem remains corrected. Being a part of the government system makes this much easier than if we were a separate or parallel organization.
We remain very excited about what the year 2020 will bring. Collaboration remains the cornerstone of our work. Efficient replication of our successful work in other provinces remains our strong desire. Every patient remains a boss.
Sincerely
The Chenla Team