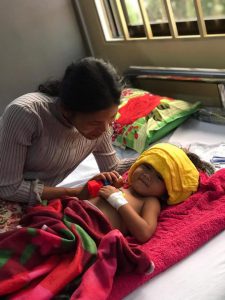 At Chenla Children's Healthcare in eastern Cambodia, we continue to serve and care for many sick and injured children in collaboration with the government system. Our work and aim remain simple – to improve the care of pediatric patients in this part of Cambodia regardless of their family's ability to pay. Ensuring that care is free for patients affected by poverty and that wealthier families shoulder a small, fair and reasonable share of financial burden is core to our work and the sustainability of the project. We give tremendous thanks to everyone who has come on board to help Chenla so far and we of course remain most thankful to the Ministry of Health of the Royal Government of Cambodia for their local support. With more than 25,000 patient encounters so far, Chenla is poised to reach a growing number of children in need.
Our current work includes not only providing care but also carefully reviewing (looking in the mirror at) what we have done so far in order to discern the best and safest path forwards. We are very thankful for the recent organizational review by Allison Kean (Harvard, MBA 2012) which looks at our business model to date. Equally important, we appreciate each of the neonatal and pediatric experts from Singapore, the USA, Cambodia and elsewhere who have worked with us to review our clinical activities. We are most thankful that being integrated with the government system means that the majority of accountability for clinical activities comes from the the public hospital structure itself. Nonetheless, high quality outside expertise provides a catalyst for ongoing positive change.
To learn more drop us a note from the "Learn More" tab above or follow us on FaceBook, Twitter, Instagram, or LinkedIn .